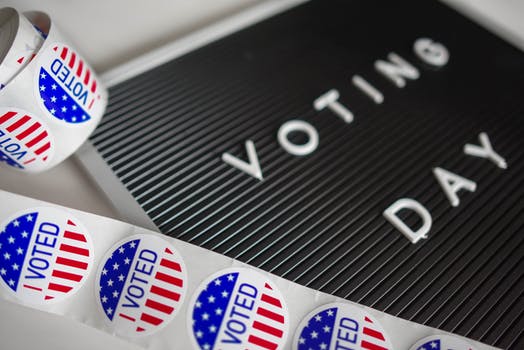 This isn't supposed to be political
I was really conflicted about doing this blog post.  This website was never supposed to be political.  But whether you are a registered Democrat, Republican, Independent, or some other party, this is a really important election.  How could it be that I have this platform and do nothing with it?  I would never forgive myself.
But, first a word about the website
But, before I get into the substance of this blog post, I would like to note that I have been really busy with my website.  I now have on my Home page a follow me on Pinterest button that really works.  I have a save to Pinterest button that I need to check out some more, but probably works.  And for those who do not need or want my Freebie on my Freebie page, you can now sign up for the newsletter, without signing up for the Freebie.
GDPR compliant – what's that?
You will also note that I now have a Cookie Notice and a Cookie Policy.   I am in the United States.  I am a natural born United States citizen.  However, I am making an effort to be GDPR compliant for my friends in the European Union.  After all, this is the World Wide Web.  OK, now that I have totally scared myself (I thought Halloween was over.  Actually, we had more trick or treaters than we had expected and we had to go to the store to get more candy).  First time visitors to the website will have to click on the Cookie Notice, have the option to find out more information from my Cookie Policy, and find out more about the use of cookies.  While some bloggers apparently think this is a nuisance, let's face it, no one really wants a Notice from the EU.
Back to the Future of our Country
Back to the subject of this blog post, in the United States, we are having our mid-term elections.  These are the off year elections.  Elections when no one is running for President of the United States.  However, there are many important congressional and local elections.
When is it?
If you want a say in your government, this is your chance.  Election Day is November 6, 2018.
Easier said than done for some of us
However, I realize as a handicapped person myself, how difficult it is for many handicapped people to get to a polling place.  In my case, I vote in advance by absentee ballot.  Some states allow for early voting, but many do not.
This is important – ask for help
This is the time to ask for help from your caregiver.  You need to get to a polling place, if you have not already early voted or mailed in your absentee ballot.
Charge your battery and go to your polling place
For those of you that have power wheelchairs, most power wheelchairs can go 20 miles or more on a single battery charge.  Make sure you have relatively good batteries and that they are fully charged before you head out to a polling place, which may be your local school or civic center.  Check your polling place in advance.  Make sure you are registered to vote.  I have been told (I have not checked this out) that North Dakota does not require registration.  Apparently, in North Dakota you can just show up at a polling place and vote without the need to register.  Make sure that you have whatever identification is required.
Time to use that van
If you have a mobility van and power wheelchair, this makes voting much easier.  But, check that the polling place is handicap accessible.  A few years ago I had a very difficult time getting up and down the stairs in the local high school to vote in a school board election.
Conclusion
In conclusion, it is time to get out and vote.  This is your time to say something about your government.  Let's not spend the next 2 years complaining about our government, if we don't even make the effort to vote.  There are so many issues that are important to handicapped people.  This is a wake up call to handicapped people, their caregivers and others, that it is time to say something about your country's government.